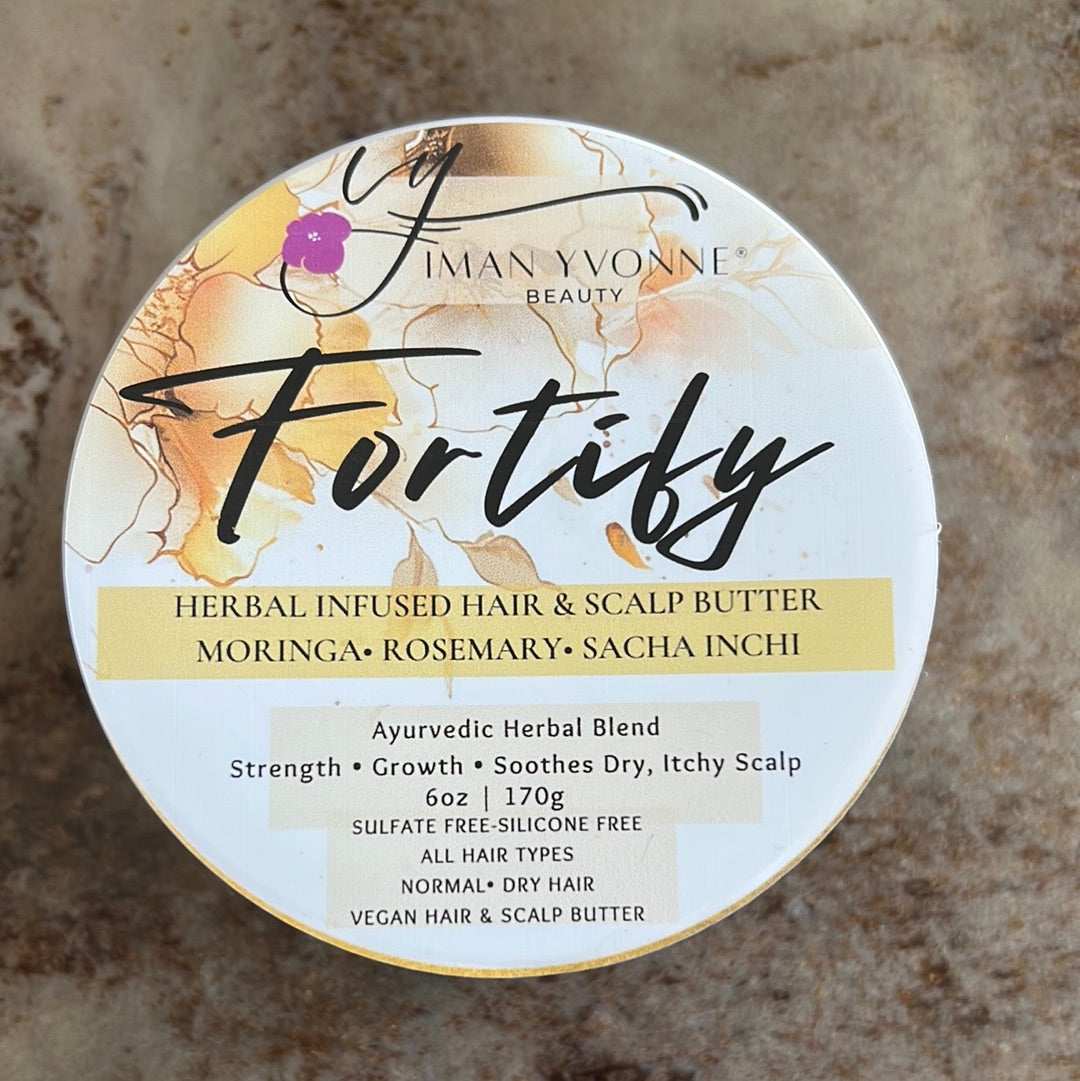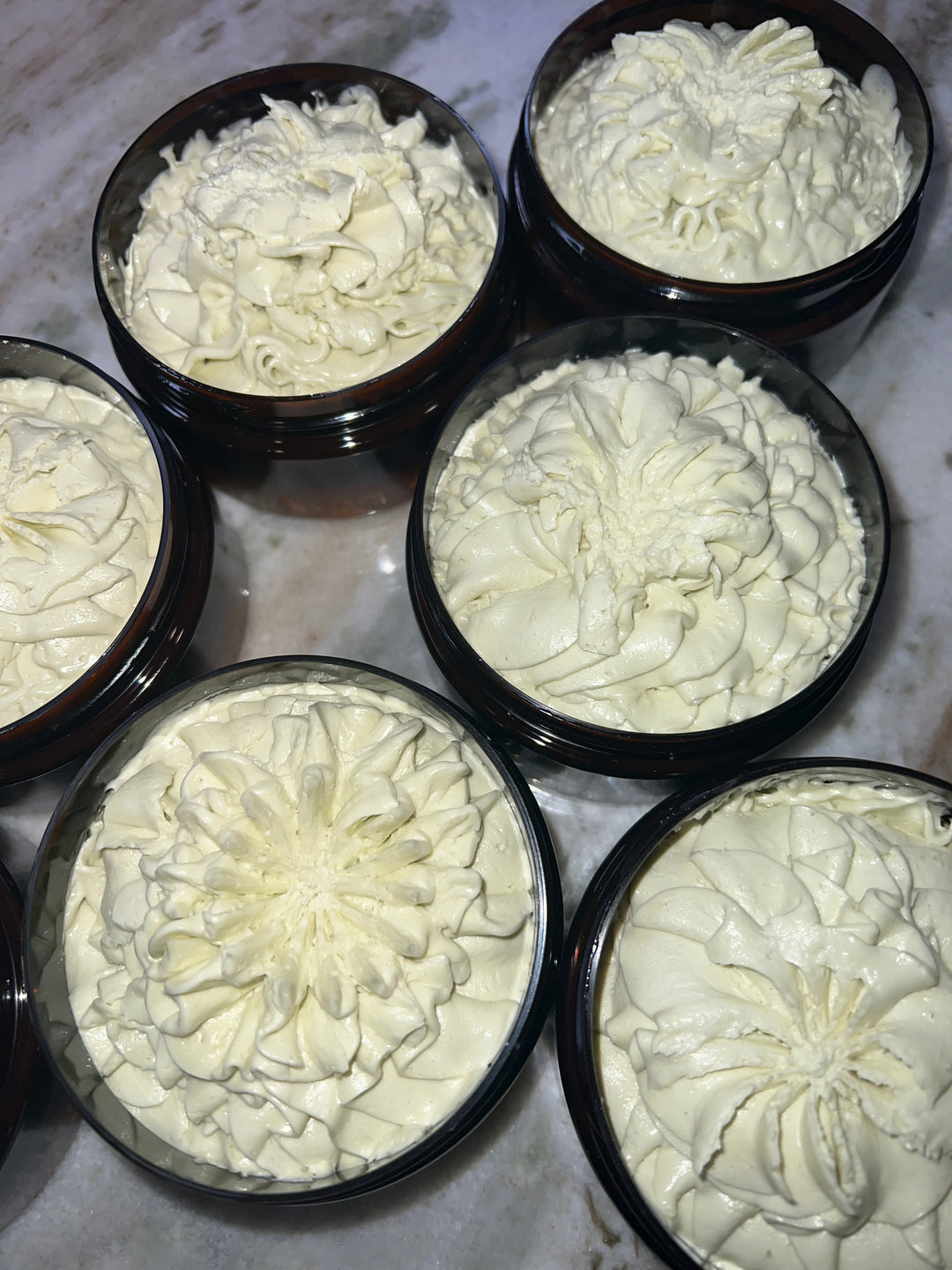 Fortify-Moringa, Rosemary, and Sacha Inchi Oil infused Hair & Scalp Butter
---
Fortify Herbal Infused Hair & Scalp Butter is an Ayurvedic Blend of herbs designed to strengthen hair, encourage growth by stimulating the scalp, and soothe dry, itchy scalp.
It is silicone, sulfate, Paraben, Phthalate, and Petrolatum free.
Vegan • Handmade • Cruelty Free
FOR EXTERNAL USE ONLY 
Suitable for all hair types. Normal-Dry Hair
6oz/170g Amber PET jar 🫙 
Directions: For fine hair, apply to scalp and massage well. Leave in for 30 minutes or overnight. Shampoo, Condition, and proceed to style.
For medium to coarse hair, apply to scalp and massage in, or apply prior to or before protective styles. Use at least 3 times per week by applying to the scalp and styling as usual.
For thermal styling, apply a dime size amount in your hand, distribute evenly and apply to the hair prior to heat styling to protect the hair.
INGREDIENTS: Moringa, Rosemary, Sacha Inchi Oil, Black Seed Oil, Jojoba Oil, Sunflower Seed Oil, Shea Butter, Mango Butter, BTMS 50, Chebe Powder, Marshmallow Root, Amla, Brahmi, Bringrag, Sea Moss, Mushroom Blend, Rosemary Essential Oil, Grapefruit Essential Oil, Lemongrass Essential Oil, Vitamin E
Sachi Inchi Oil
Repairs dry and damaged hair
Sacha Inchi is exceptional in repairing dry and brittle hair thanks to its high levels of Vitamin E, which actively regenerates hair, while the unsaturated fatty acids nourish and protect hair from further damage.
Balances oil production
The Omega-3 in Sacha Inchi helps control natural sebum production in hair follicles, eliminating excess while maintaining the necessary moisture.
Soothes dry, itchy scalp
Sacha Inchi oil stimulates hair follicles, improving blood circulation to the scalp and instantly soothing itchiness.
Moringa
Promotes hair growth, boosts scalp health, nourishes the scalp, and protects from free radical damage, The anti-inflammatory properties of moringa also keep various problems like itchy scalp, scalp scaling at bay.
Rosemary
Rosemary is a powerhouse for natural hair growth. This natural remedy helps boost hair growth and thickness, clarifies and soothes the scalp, and promotes silky, shiny hair.
Marshmallow Root
Makes the hair soft and flexible, gives a lustrous shine, thickens hair strands – the mucilage binds with hair strands, gives natural body and bounce to the hair, enhances natural waves and curls, promotes hair growth, reduces split ends and hair damage, helps balance a dry and itchy scalp, tames frizzy and flyaway hair, and nourishes the hair and scalp.
Orders will be processed in a window of 2-5 business days. This may be affected by national holidays, vacation, etc. We will always notify the customer if there is a change in processing time.
Our orders ship with USPS, FedEx, or UPS. Once the order is shipped, the customer will receive tracking information and is responsible for tracking their shipment. Iman Yvonne Beauty is not responsible for package theft or incorrect delivery. It is imperative to ensure you have put in the correct shipping address at checkout or contact us immediately if there is an error with the address.
Once an order has been shipped, it cannot be cancelled.
Please consistently track your shipment. If the tracking shows that your package has been delivered and you claim you did not receive your package, a claim will need to be filed with USPS directly by the customer. As a result, we are unable to issue refund or replacement.
Due to the nature of the products and for sanitary and contamination purposes, returns or exchanges are not currently available. If you are unsatisfied with your purchase, please contact us.