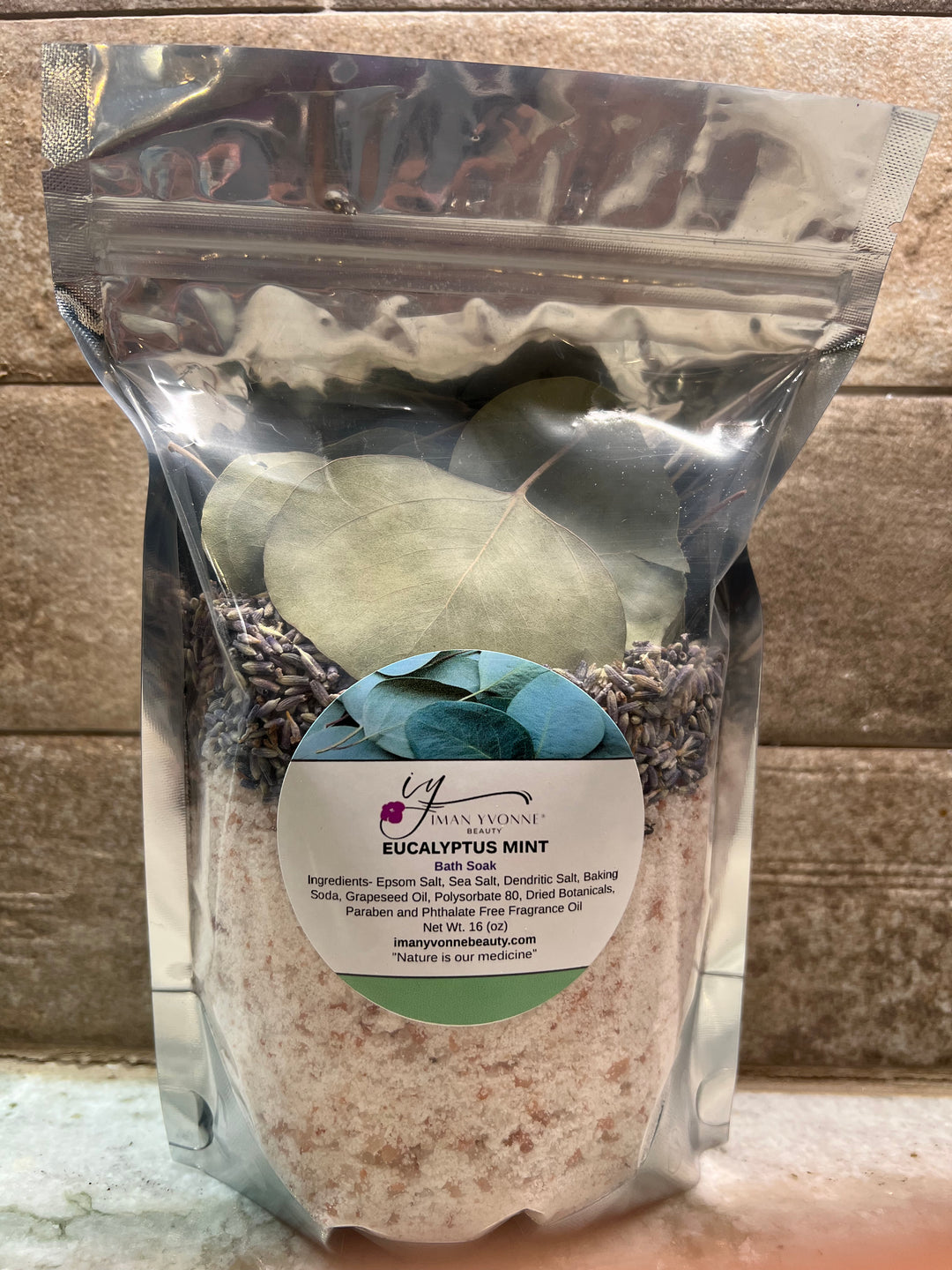 Eucalyptus Mint Bath Soak
---
These bath salts & soaks are made with detoxifying Pink Himalayan Sea Salt and Epsom Salt that naturally soothe sore muscles and help to detoxify the body.
Pink Himalayan salt contains 80 plus minerals and elements. Epsom salt is a natural exfoliant and anti-inflammatory. These combined with essential oils and dried botanicals, create a luxurious and therapeutic bathing experience after a long day or any time self-care is desired.
How to use: Run a warm bath and scoop a few spoons into the water. Submerge yourself into the water, soak, and enjoy. When finished, cover the drain to catch botanicals if concerned about them going down the drain.
Please keep it in a dry place and out of the reach of children.
Ingredients:  Epsom Salt, Sea Salt, Dendritic Salt, Polysorbate 80, Dried Botanical Flowers, Paraben, and Phthalate free Fragrance Oil.
Discontinue use if irritation occurs.
Orders will be processed in a window of 2-5 business days. This may be affected by national holidays, vacation, etc. We will always notify the customer if there is a change in processing time.
Our orders ship with USPS, FedEx, or UPS. Once the order is shipped, the customer will receive tracking information and is responsible for tracking their shipment. Iman Yvonne Beauty is not responsible for package theft or incorrect delivery. It is imperative to ensure you have put in the correct shipping address at checkout or contact us immediately if there is an error with the address.
Once an order has been shipped, it cannot be cancelled.
Please consistently track your shipment. If the tracking shows that your package has been delivered and you claim you did not receive your package, a claim will need to be filed with USPS directly by the customer. As a result, we are unable to issue refund or replacement.
Due to the nature of the products and for sanitary and contamination purposes, returns or exchanges are not currently available. If you are unsatisfied with your purchase, please contact us.